Super Thoughts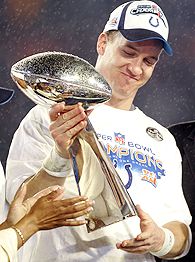 I suppose all is right in the world. I can't fathom a world where Rex Grossman is a Super Bowl winning quarterback and Peyton Manning is not. Yes, the Trent Dilfers and Brad Johnsons of the world have won Super Bowls. But they did it at the expense of Kerry Collins and Rich Gannon. I can take that. My world nearly fell apart when Vinatieri missed a FG at the end of the first half - but Manning and his laser rocket arm set it back in place.
I know that Rex was 20/28 in ugly conditions but he still had two INT's (one for a TD) and two fumbles (one lost), and a sequence where they went from 2nd and 1 in FG range to 4th and...what was it....25ish? And Moose saved his butt on bad passes on more than one occasion. But Lovie is all about Sexy Rexy and now that he "got them there" he's probably cemented his rear in the starting spot for a few years at least. What a fun ride we'll be on enjoying him and Steve McNair for the next few seasons.
It's ashame Urlacher doesn't have a better QB to lead his team's offense. He was great last night. Am I the only one who thought of Ted Ginn last night? Who would've thought our national title game and the Super Bowl would have started in such spectacular fashion? And my MVP vote could have gone to Dominic Rhodes or Addai (more for receiving than running) as easily as Manning, even though I'm glad to see Peyton win the game. I hope someone asks Edge if all that money is able to comfort him as he watches his ex-teammates win.
I thought Prince was great. And for my vote, Career Builder (survive the work week) had the best commercials.